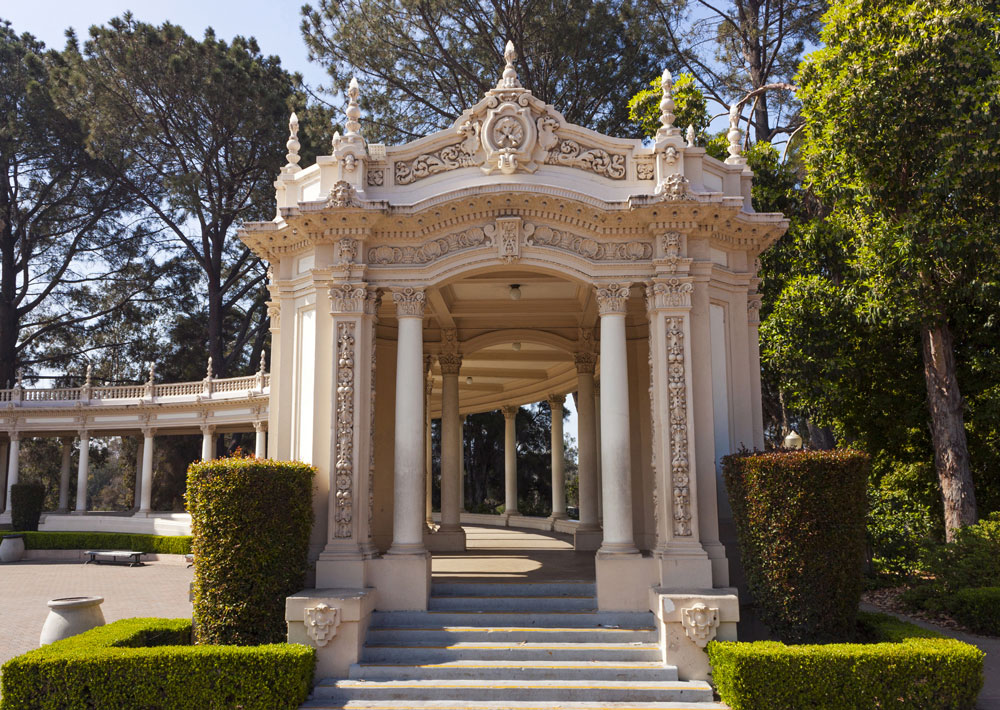 There are several architectural styles to feast your eyes upon in Balboa Park, but Spanish Colonial Revival is the predominant theme, along with Mission Revival. Spanish Colonial (also known as Spanish Baroque) is based on the elaborate stone architecture of Spain and Portugal, while Mission Revival reflects the basic adobe architecture actually practiced in early California.
The Spanish Colonial Revival style seen in Balboa Park represents an architectural movement that began to flourish on the U.S. Pacific Coast in the 1890s. Heavily influenced by the Spanish-Moorish architecture of the Iberian Peninsula and Spanish colonial sites elsewhere, it remained popular the first three decades of the 20th century…
Survivors of the first Exposition
In addition to the California Tower/Cabrillo Bridge complex, several buildings remain today from the 1915-16 Exposition. The principal ones are the Botanical Building and its highly photographed reflecting pool, the Spreckels Organ Pavilion, and the Balboa Park Club. Other buildings have been rebuilt to replicate their 1935-36 appearance.
Carleton Monroe Winslow used Spanish and Persian models in designing the 75-foot-high Botanical Building. To some, the redwood-lath dome hovering over a 250-foot long flower garden resembles a European train station.
Today's House of Charm on Plaza de Panama, designed by Winslow, originally was the Indian Arts Building. Native American arts and crafts were displayed there in 1915, but the building was renamed the Russia and Brazil Building for the expo's second year…
New additions, replicated oldies
Today's Park visitor can admire many buildings that survive from the 1935-36 Exposition. In addition to the House of Hospitality and House of Charm on Plaza de Panama, don't miss Spanish Village located behind the Natural History Museum. The International Cottages of the House of Pacific Relations can be seen near the Organ Pavilion. In the Palisades area (Pan American Plaza), examples include: the Recital Hall with its Marie Hitchcock Puppet Theater (formerly The Women's Palace); Air & Space Museum (Ford Building); Automotive Museum (1935 California State Building); Municipal Gymnasium (Palace of Electricity and Varied Industries); San Diego Hall of Champions (Federal Building) and Starlight Bowl (Ford Bowl).
Don't miss the great info and tips from Balboa Park insiders included in Discover Balboa Park: A Complete Guide to America's Greatest Urban Park!
(Excerpted from Discover Balboa Park, 2nd Edition, Chapter 8, pages 135-143, © Ridgway Park Publishing)